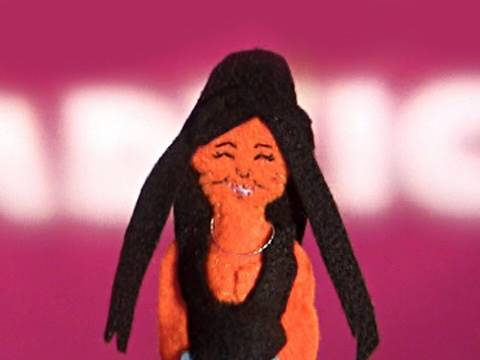 New York Times Best Selling Author
So it begins.
It's the first episode of The Library, your portable, virtual, wonderful book club podcast! We (Kim, Jen, Rose, and Quinn) will be reading only the best and the worst books available and bringing our comments straight from our heads to your ears.
The idea of this show is simple. Twice a month we'll read a new book, and then get together to discuss it in depth and/or make fun of it. Each show we'll assign a new book to read, and then we'll discuss it on the following show. You don't HAVE to read along with us... but just know that every show is going to be full of two things that may get your goat: spoilers and opinions. We won't apologize for either of these things, but we will try to always entertain you, and also give you a chance to rant to us via voicemail, blog comments or email.
Celebrity Scribes
"Everyone who has been on television for two weeks in a row has a book deal."
"...WHO is buying these books?"
We introduce our first, and possibly the best segment, devoted to celebrities and their sometimes terrible, sometimes incredible literary offerings. Each show at least one member of the cast will be reading a book penned by one of the beautiful people*, and explain their journey to the center of a reality show star's thoughts and feelings.
This week, we talked about Snooki's successful book launch, and preview the upcoming book. Want to read along? Kim, Rose, and Jen have agreed to read Lauren Conrad's L.A.Candy.
The Top Shelf : "Candle Cove" by Kris Straub
"It gave me nightmares..."
For this week, being the first show, it felt silly to review a book that there was no chance you would have read before, so we decided to do a short story that you may have heard of-- or you may not! It's called "Candle Cove".
Read it here: http://www.ichorfalls.com/2009/03/15/candle-cove/
Kim sent the link to the hosts this week, with absolutely no explanation, and asked for their opinions. Of course, they were more than happy to share.
Dropbox
Nothing this week, because it's our first show- but we expect to hear from you by episode two!
Call (646) 926-READ and leave us a voicemail with your reactions to "Candle Cove", some feedback about the first show, or (muy importante) suggestions for books to read in the future!
Follow us on Twitter for updates! We're @thelibraryshow.
Music Credits: Alex East, The Twelves, and The Blue Mitchell Sextet
Direct Download
Subscribe via iTunes
*in the eye of the beholder